Magazines & Presses
The San Francisco Public Library: A Publishing House
Richard Brautigan, Victor Moscoso,
and Jack Thibeau
San Francisco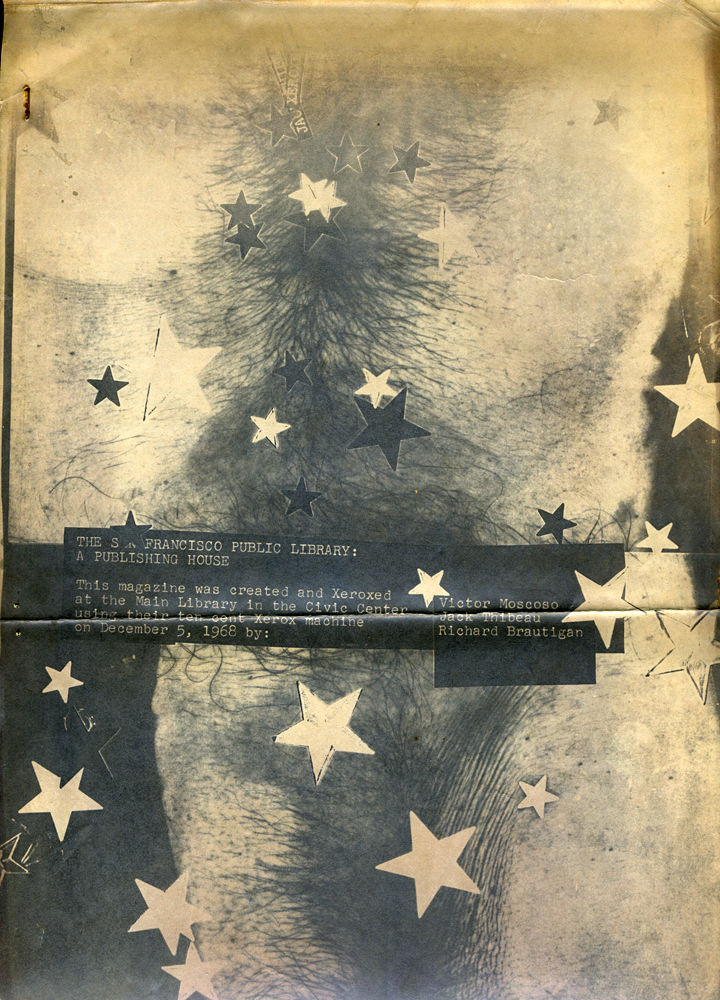 "It all started with an obituary. Richard Brautigan tore the column from the back pages of the San Francisco Examiner in September of 1968, another piece of found art. He kept it among his personal papers for the remaining sixteen years of his life. The headline read, 'Mrs. Myrtle Tate, Movie Projectionist.'"
The cover was spontaneously created by poet and actor Jack Thibeau who carefully placed his hirsute belly upon the Vico-Matic copy machine located in the Reference Room of the Main Library at Civic Center. Victor Moscoso, Zap Comix and Family Dog artist, created the back page by placing Valerie Estes's Siamese cat, Zenobia, on the machine. And Richard Brautigan copied his poem "Mrs. Myrtle Tate, Movie Projectionist" against the background of a newspaper's movie ads. Edmund Shea photographed the event for posterity.
"Richard had prepared small slips of paper with a typed statement: 'This is one of seven numbered and signed copies.' The line below contained a typed number. These were printed on seven of Brautigan's copies, and he signed them all. In addition, Thibeau and Moscoso each signed an undisclosed number of their own pages. According to librarian David Belch, no more than twenty copies were printed. Richard bound each one together with three staples."
The statement on the front cover reads: "This magazine was created and Xeroxed at the Main Library in the Civic Center using their ten cent Xerox machine on December 5, 1968 by: Victor Moscoso Jack Thibeau Richard Brautigan."
Due to the fragile nature of Thermofax, few copies have survived. Some claim that this book is the most rare of Richard Brautigan items.
Description adapted from:
William Hjortsberg, Jubilee Hitchhiker: The Life and Times of Richard Brautigan (Berkeley, CA: Counterpoint, 2012), pp. 375–76.